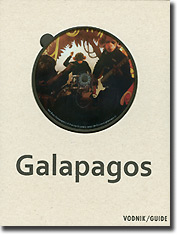 GALAPAGOS VODNIK/GUIDE
V knjiga so zbrani kritiški in prozni zapisi, poezija in vizualno gradivo, ki je nastajalo med letoma 2004 in 2007.
Vodnik po Glapagosu poleg bogatega vizualnega gradiva vsebuje DVD z glasbenim videom. K ustvarjanju knjige smo povabili vse, ki so bili na tak ali drugačen način vpleteni v projekt. Strokovna besedila za knjigo so prispevali Aleksander Bassin, Aurora Fonda, Tea Hvala, Majda Božeglav Japelj, Željko Jerman, Jadranka Ljubičič, Tevž Logar in Simona Vidmar. Pesmi je prispeval Jani Pirnat, fotografije pa Boris Cvjetanović, Dejan Habicht & Matija Pavlovec, Damijan Kracina, Robert Ograjenšek in Pete Moss.
Vodnik Galapagos so izdali: Strip Core / Forum Ljubljana, Zavod O, Galerija Alkatraz in Damijan Kracina & Vladimir Leben, uredila pa Tevž Logar in Tea Hvala. Besedila so prevedli Borut Cajnko, Gorjup Draveljski (poezija), Ivana Bago, Tea Hvala in Yuri Barron, jezikovni pregled je delo Inge Pangos, oblikovanje pa produkt Novega kolektivizma. Distribucija Forum Ljubljana / Stripburger
(Cena: 22 €).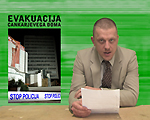 Tea Hvala
Izvajanje velikega blatarja
..../ Njegova tragična smrt nas je vse prizadela. Kako bi mogel pozabiti, da je prav on, ljubitelj narave in pionirski raziskovalec, prvi opozoril na velikega blatarja in mu žrtvoval mnoge ure in končno tudi življenje? Toda, mar se ni prav ob tragični smrti gospoda Raztrgana porodilo in kasneje utrdilo prepričanje, da je veliki blatar človeku nevarna dvoživka?
/ Dr. Lajić: Gospod Leviki! Dobro veste, da je veliki blatar Raztrgana dobesedno raztrgal! Upravičeno menimo, da obstaja možnost ponovitve! /....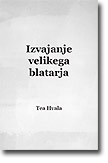 Izvajanje velikega blatarja
Besedilo: Tea Hvala
Risbe, fotografije, oblika: Damijan Kracina
Naklada: 200,
(C) avtorji 2007
>>> pdf
V MEDIJIH / IN THE MEDIA


rtvslo / zapeljevanje-pogleda-dokumentarna-serija-3-4
Plehnat je, gladek, črnočrn
Društvo za domače raziskave, S'pajkanje..
http://www.mladina.si/tednik/200916/
plehnat_je__gladek__crnocrn
Damijan Kracina: Belo kot umazan sneg
http://www.radiostudent.si/article.php?sid=16797
Vodnik po Galapagosu
http://www.radiostudent.si/article.php?sid=14049
Texts:
Tea Hvala "Izvajanje velikega blatarja" slo 2007
Alenka Gregorič "Koralni otok" slo / engl, 2006
Aleksander Bassin "Obramba narave, Galapagos Kracine in Lebna" slo
Barbara Borčić "Marmalade" slo / engl, 2005
Tevž Logar "PARVA SCINTILLA SAEPE MAGNAM FLAMAM EXCITAT" slo / cro, 2005
Željko Jerman "Iskrene iskrice" slo / cro, 2005
Jani Pirnat "Animal Tour" slo / cro, 2005
Jadranka Ljubičič "Galapagos" slo / engl, 2005
Nevenka Šivavec, "Galapagos" Likovni Salon Celje, slo 2005
Petja Grafenauer "Galapagos" Arteria, Radio Študent slo 2004
Ivana Bago "The Ant" (Čisto umazano / Pretty Dirty) cro / engl, 2005
Jani Pirnat "Vsestranskost in poslanstvo / Universality and mission" slo / engl, 2004
Sabina Salamon "Vrt/Garden" engl
Alenka Pirman "Opismenjevanje s Proteusom" slo / engl
Igor Španjol "Talk to me like lovers do III" engl
Igor Španjol "Loved / Silent" engl
Igor Marković "Smrt i tako to" cro
Nevenka Šivavec "For the Soča River" engl
Maria Campitelli "..." engl
Jernej Kožar "ANIMALS,LIFE" slo / engl
Jurij Krpan "Kracina TV" slo / engl
Majda Božeglav-Japelj "Telo Angela" slo
Alenka Pirman "Let's garden!" engl / slo
Alenka Pirman "..." slo / ita
Gregor Podnar "DECORUM" slo / engl
Nevenka Šivavec "..." slo / engl
Vanesa Cvahte "On the Existence, Disapperance and Saving of the Species" slo / engl
Tomislav Vignjevič "Concealed Fact" slo / engl
Marja Lorenčak "V.ODA. The Etymology of Kracina's zodiac" slo / engl

©. All rights reserved.
This material may not be published, rewritten or redistributed.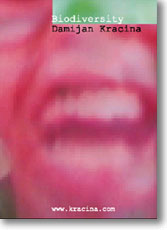 Knjiga/Book (2004)
Damijan Kracina - Biodiversity
Book, 64 pages, (PDF, 1.6M)
Jani Pirnat
Vsestranskost in poslanstvo - (tekst - slo)
Universality and mission (engl)
BIBLIOGRAPHY*
Nevenka Šivavec: Damijan Kracina. Likovne besede (Ljubljana) 35,36,37, 1996, pp.154-157.
Jurij Krpan: Kracina TV, Kapelica Gallery (Ljubljana) 1995, exhibition catalogue.
Gregor Podnar: Decorum, Collection animalis, 1997 (Podsreda - Kozjanski park), exhibition catalogue.
Marja Lorencak: V.oda - etimologija Kracinovega zodiaka / the Etimology of Kracina's Zodiac1997 (Podsreda - Kozjanski park), exhibition catalogue.
Vanesa Cvahte: On the existence disaperance and saving of the species, Werkstadt Graz (Graz), 1998, exhibition catalogue, ISBN: 3-901793-03-8
Jernej Kožar: Animals-Life, Werkstadt Graz (Graz), 1998, exhibition catalogue, ISBN: 3-901793-03-8
Tomislav Vignjevic: KracinaTV, Media in Media, 1997, SCCA-Ljubljana (Ljubljana), pp. 84-86. exhibition catalogue
Tomislav Vignjevic: Damijan Kracina, Young Lions, M'ars (Ljubljana) IX / 1, 1997, pp. 24-25.
Damijan Kracina:Interwiew mit einer bedrohten Art, KunstRoumMitteleuropa, Galerie Ernst Hilger (Wien) pp. 38-39 ISBN 3-900318-89-1
Damijan Kracina:Interwiew mit einer bedrohten Art, CENTRAL, artLab/Galerie Ernst Hilger: (Wien) pp. 6-7
Damijan Kracina:Statement, Art from a ruksack 1997-1999, Likovni salon Celje (Celje), Exhibition catalogue
Majda Božeglav-Japelj,Damijan Kracina, TELO ANGELA, 1996, Obalne galerija Piran (Piran), exhibition catalogue
Alenka Pirman: Opismenjevanje s proteusom / Raising the level of litercy with the olm. M'ars (Ljubljana) XII / 1,2, 2000, pp. 88-91
Alenka Pirman: Damijan Kracina: Biennale of the young artist of Europe and the mediterran, 1997, (Turin), exhibition catalogue
Igor Španjol: Talk to me Like Lovers Do III, INTERSTANDING/UNDERSTANDING, 1997, SCCA-Slovenia / SCCA-Estonia, exhibition catalogue
Gregor Podnar: Vulgata, U3-3.rd triennale of Contemporary Slovene Art 2001,Museum of Modern Art (Ljubljana) pp.22-26
Gregor Podnar: Vulgata - Kunst aus Slowenien, 2001, NBK (Berlin) pp.22-26
Gregor Podnar: Decorum, Annual Catalogue 1997, Škuc Gallery (Ljubljana) pp. 14-21
Aurora Fonda: Slovene Way 2001, (Bologna), exhibition catalogue
Aleksander Bassin: Postajanja, Le petit Nodier 29, 2002 Institut Francais Charles Nodier (Ljubljana) pp. 5
Andre Rouille: Devenirs, Le petit Nodier 29, 2002, Institut Francais Charles Nodier (Ljubljana) pp. 4
Aleksander Bassin: Extended transformation-modification of an artist, Natura Naturans 5, 2000, Gruppo78(Trieste) pp. 83-85, exhibition catalogue
Andre Rouille: Damijan Kracina, Devenirs-Becomings, 2001, cultureAccess (Paris) pp. 50-53, ISBN 2-9517416-0-X
Stane Peterlin: Cloveška ribica kot likovni izziv, Proteus 4/63, 2000, pp. 190
Alenka Pirman: Sculpture in the New Central Europe / Slovenia, Sculpture, vol.15/No.10 (Washington-USA), pp. 29-33, 1996 ISSN 0889-728x
Igor Španjol: Loved / Silent, Day+Night Show, Passage Galerie, k/haus (Vienna) 1998, exhibition catalogue
Damijan Kracina: Some words about the artist, artisti.giovani@sloveni.si, PatagoniaArt (Venezia) pp 24-25, exhibition catalogue

*2002, podatki so iz dokumentacije - arhiva Moderne galerije, Ljubljana