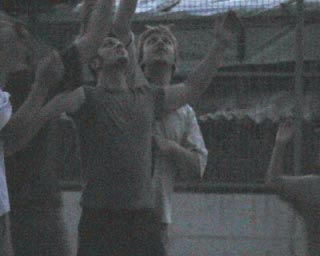 'BASKETVIDEO'
Copyright © 2001
Borut Korošec, Jaka Mihelič, Damjan Švara, Grega Kregar, Damijan Kracina, Mojca Senegačnik, Katarina K. Toman, Sara Hughes.
All participants of this project are its authors and have the copyright on this video work.
Every participating author could present this video anywhere under his own name.
Project co-ordination: Damijan Kracina
Camera: Jaka Mihelič, Sara Hughes
Video editing: Damijan Kracina
web-editor: Damijan Kracina
Translation: Borut Cajnko
SYNOPSIS:
BASKETVIDEO is experimental video project. Is a team work of eight contemporary artists.
They all participate at action and upgrade recorded video material with very important statements and mesages.
Team members:
Borut Korošec, Jaka Mihelič, Damjan Švara, Grega Kregar, Damijan Kracina, Mojca Senegačnik, Katarina K. Toman, Sara Hughes, with the support of Oton, Rožana, Matija, and Klara Frančiška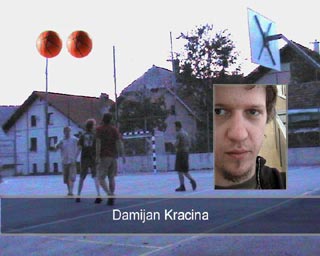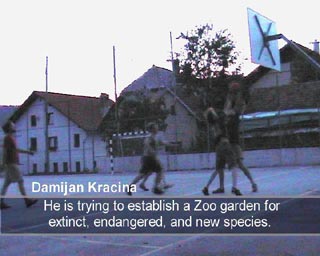 Damijan Kracina
In 1995 he came out with a story of the extinct Tasmanian wolf, and only two years later, after enormous conceptual efforts, he brought this animal breed back to life and showed it to the public.
In 1999, after a series of conceptual approaches, he finally managed to interview a trout - Salmo trutta marmoratus.
In 2000 he elaborated the last missing elements of the Proteus Font project, 'The First Slovenian Autochthonous Font'. The letters are made of the body of 'Human Fish' (Proteus anguinus), which is to be found in dark underground caves of Slovenian Karst.
His pioneering efforts also include the transformation of a gallery into a zoo and the imposition of a quarantine for animals in a European gallery.
He is the founder and fifty-percent owner of the successful 'Soški Biser' business.
He is trying to establish a Zoo garden for extinct, endangered, and new species.
For further information about the artist, see his web site (www.kracina.com).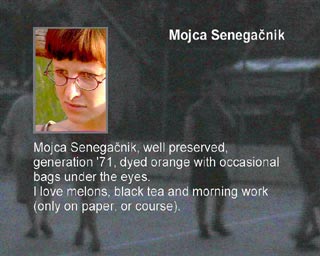 Mojca Senegačnik
A personal ad for infinite time.
Mojca Senegačnik, well preserved, generation '71, dyed orange with occasional bags under the eyes. I love melons, black tea and morning work (only on paper, or course). In leisure time a housewife, needing to chat, an admirer of sleeping babies and other living creatures, spreading intolerance merely against litter on the floor, otherwise mainly friendly.
Cipher: Do not wake me up before eight!
Non-smokers and alcoholics, think twice!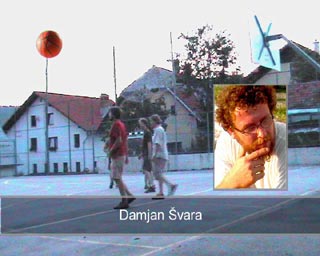 Damjan Švara
Not married but not single
Half-chain smoker
Lover of good wine at the beginning (later the gullet doesn't care)
More luck than brain in previous life
Not knowing why, he mainly gnaws at stone and nails
All-eater
Speciality: Fire
Horoscope: Ram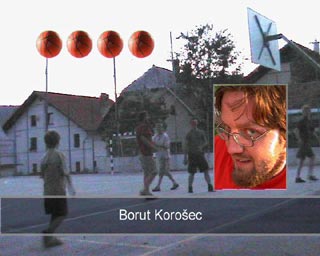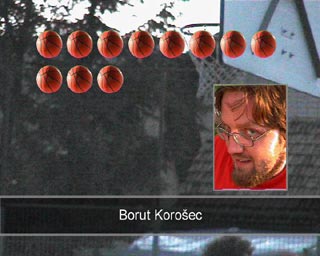 Borut Korošec
1) I am not necessary, 1997, Ljubljana - City of Culture
2) I warmly recommend reading of the poetry by Wallace Stevens, and a visit to the World Championship in Synchronous Swimming in Pools, 2001, Slovenska Bistrica
3) It is possible, of course, that the tradition you are thinking of does not exist. Of course, 2001, Slovenska Bistrica
4) Social-political eyes see what they have seen already, 2002, Sao Paolo
5) Is there anybody spiritually-gifted around here, 2001, DTD
6) Argument is a form of old formulation, 2002, Sao Paolo
7) I am fed up with architecture, 2000, DTD
8) I teach at the Waldorf Grammar School, Ljubljana, 2001, Slovenska Bistrica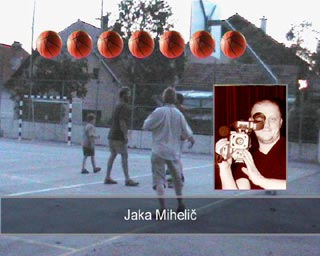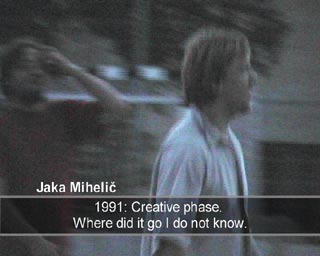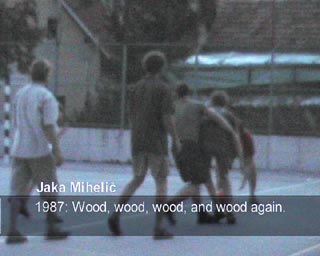 Jaka Mihelič
Message…
1972: How long does a birth take?
1979: Why a yellow neckerchief? Young member of Pioneers.
1987: Wood, wood, wood, and wood again.
1991: Creative phase. Where did it go I do not know.
1993: How long does it take to fall in love?
1995: What shall I do next?
1998: Finally something clever. Money to burn.
2000: Millennium.
2001: I found the creative phase.
2002: Happy New Year.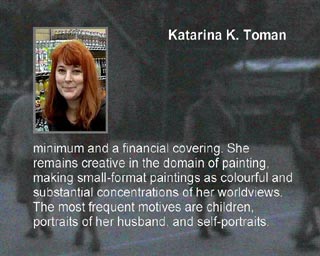 Katarina K. Toman
She was born in 1968 to Veljko and Frančiška as the first of their three daughters.
She acquired the letter K. when she married Damijan in 1999.
After finishing her art education (Secondary School for Design and Photography, and Academy of Fine Arts in Ljubljana), her activity was dispersed to many fields: painting, sculpture, urban actions, illustration, design, educational workshops, teaching, and restoration.
After giving birth she directed her activities primarily to taking care for the child, to providing for a hygienic minimum and a financial covering. She remains creative in the domain of painting, making small-format paintings as colourful and substantial concentrations of her worldviews. The most frequent motives are children, portraits of her husband, and self-portraits. If needed she invents a game or a fairy tale, or make a toy.
She feels that she could make a really good exhibition once a year, if every day would have at least 28 hours. Instead, she mainly participates at group exhibitions.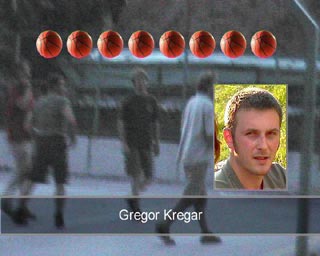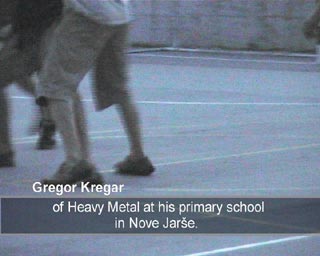 Gregor Kregar
Gregor Kregar was born in 1972 in Slovenia, in the center of Europe on the edge of the Balkans. His
artistic career began with the influence of Heavy Metal at his primary school in Nove Jarse. After
failing his entry exams to Design school his Artisticendeavor was side tracked for four years at secondary school for Wood Science and Technology. After this early set back his artistic career went from strength
to strength completing his Bachelor of Fine Arts at the Academy of Fine Arts in Ljubljana. In search for
wind, waves, kung-fu and adventure he found himself in
New Zealand where he also found time to complete his Masters of Fine Arts at Auckland University. After
wining the prestigious James Wallace Art Award he is trying to keep up with exhibitions and has little time
for windsurfing.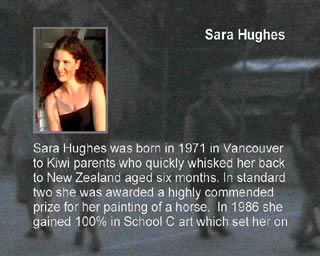 Sara Hughes
Sara Hughes was born in 1971 in Vancouver to Kiwi parents who quickly whisked her back to New Zealand aged six months. In standard two she was awarded a
highly commended prize for her painting of a horse. In 1986 she gained 100% in School C art which set her on the tracks for an artistic career. Completing three years of a Bachelor of Fine Arts at Auckland
University she was then distracted for seven years on an extended O.E (overseas experience). The adventure and allure of travel wore off and in 1999 she returned
to New Zealand to finish her degree and go on to complete a Masters in Fine arts. At this stage Sara is
an accomplished dot maker and lives a busy life in Auckland with her Slovenian boyfriend.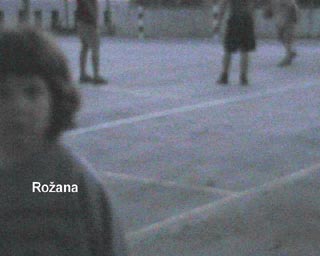 Ljubljana dec. 2001